Description :
belongs to the category:Desktop Enhancement Applications-Low Maturity. Desktop Clock works and looks like a standard analog clock with extra features. Desktop Clock appears while system startup and resides on your desktop. Almost all details you are able to configure including different types of clock hands and their colour. You can manipulate the different styles of clock frame and colour. You are able to configure the font colour, font size and font style used to display text. Any information displayed in the Desktop Clock is configurable by you to suit your own taste and affects the appearance of other clock windows  such RSS window or Daily Planner Window.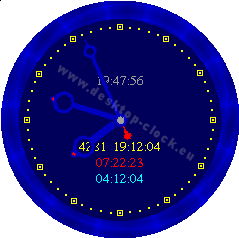 Developer: http://www.desktop-clock.eu/
Download: http://www.desktop-clock.eu/desktop_clock_download.php
Category: Clocks, Desktop Enhancement Applications, Low Maturity.
Disability: Low Vision